All it took for a young Stevie Johnson to get hooked on football was to watch the NFL gameday packages, including his hometown San Francisco 49ers.
But as he pursued his NFL dreams with the Buffalo Bills, Johnson wanted to go even deeper. If he ever broke through, he wanted to make sure he had a positive relationship with his fans behind an approachable persona, especially towards kids.
As his motto goes, Johnson wanted to handle business and have fun during his pro career, a philosophy that has carried over into one of his new ventures as a children's author through ImagineWe Publishers.
Along with co-author Charles Roberts III and North Tonawanda illustrator Zack McCabe, Johnson promoted his HBHF book series and appeared Saturday at Lockport High School to help launch the second volume of the series, "Freddy J Makes His Play," featuring the story of former Bills running back Fred Jackson, who went undrafted out of Coe College before spending eight seasons with the Bills from 2007 to 2014 and the second volume of his coloring book series "Visions."
This was part of a fundraiser to support the Anna Merritt Elementary School PTA and sponsored by the Mental Health Association of Niagara County. Saturday was his first visit to Lockport and appreciated the "peaceful" environment.
"It's great to see the city and see the community," Johnson said. "... The support is just as if I was at a Buffalo Bills home game, you know? It was wild when I came to see the kids yesterday (at the Curtiss Hotel in Buffalo) and seeing it today, it's the same vibe. Great energy."
Writing was not a pursuit initially for Johnson but he was exposed to this form of creativity at an early age. His step-father, Andre "Herm" Lewis, was an author, musician and activist in the San Francisco community yet Johnson turned to coaching football.
The outbreak of the COVID-19 pandemic in March 2020 led Johnson to pick up his pen, in the hopes of encouraging his players to continue working hard and everything would be okay.
Creating a coloring book was the first step. He found his illustrator, McCabe, when they started playing basketball together at a golf event run by Buff-a-logo. Having an alien mascot to represent various occupations led to the first volume of the "Visions" series released last June.
Then, at one of his meet and greets held at The Brickyard Brewery in Lewiston, Johnson met Roberts. He is director of public relations at Delaware North, but has a long history as a writer — including a 2016 novella called For the Love of Thomas Amore — and told Johnson he had a loose idea about writing a story about the receiver's career.
Last July, the trio released its debut book, "There's Always a Way with Stevie J," inspired by Johnson's own story of highs and lows through his career and encouraging kids to have what he described as a "balanced mentality" and persevering through challenging times.
Meeting Roberts and McCabe, he said, was "like God putting us together."
"I didn't say I was going to do this, it kind of just happened, you know?" Johnson said. "And when I met with these guys, it was like, 'Okay, we got to do more and let's make the most of it.' But we didn't have any thoughts about, 'This (has) got to be our plan.' It just kind of happened."
After graduating from the University at Buffalo in 2017, McCabe's career is in architectural design and, since last August, has worked at Architectural Resources in Buffalo, but illustrating and creating art is what he does in his free time. Initially starting as a watercolor painter five years ago, this collaboration with Johnson are his first major illustrations, which gave him more of a purpose.
"It's been a lot of fun to make these characters that try to actually look like Stevie, look like Fred, look like other people involved and kind of get the kids to recognize faces," McCabe said. "That's when I get the real, good feeling of success. And it's like, 'Oh, you did so good at making Stevie look like Stevie.' And it's been a lot of fun."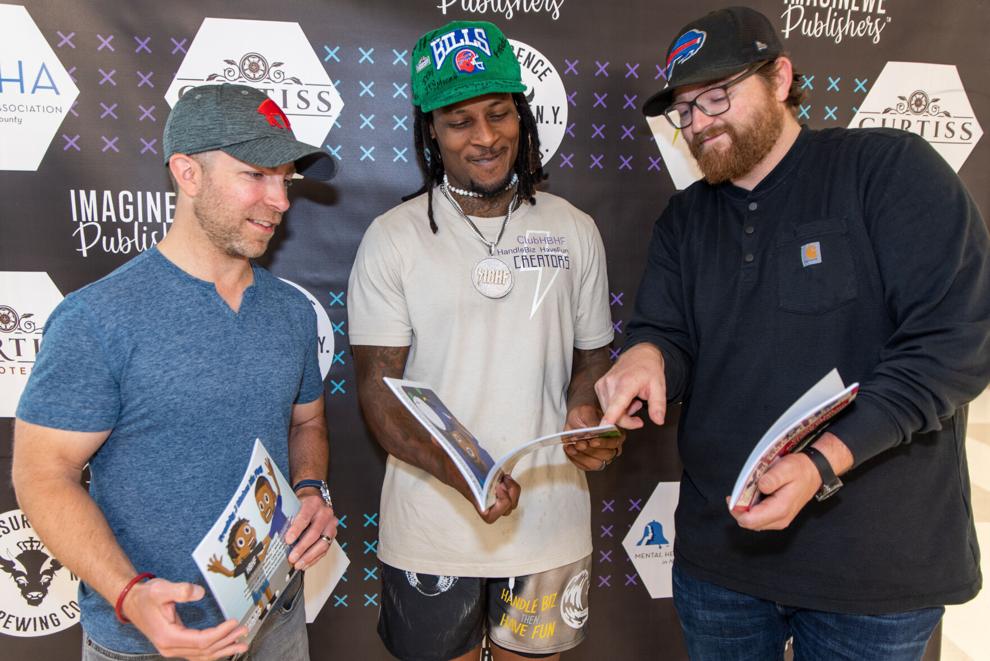 Johnson said, at first, Jackson couldn't believe the next book in the series was going to be about him but once he read the story and saw the illustrations, he has been a major supporter ever since. Johnson said Jackson's work ethic and spirit had a big influence on his playing career and on his life — all with a smile.
"He came to work smiling every day," Johnson said. "He was the first in the weight room. He was the last to leave the film room. You would expect somebody a first round pick to be doing this, but he wasn't. So, he just showed that we can still do the same things when I was a rookie coming in. So it was good to give back to him by creating a book on his story."
Copies of the entire HBHF book series can be purchased at imaginewepublishers.com.