ORCHARD PARK — Josh Allen has spent his offseason making appearances at golf tournaments and the Kentucky Derby. It might lead one to think football isn't the most important idea swirling in his brain.
That would be wrong.
Allen might be spending his free time in the public eye, but he is focused on football, determined to eradicate four years worth of playoff disappointments. The Bills quarterback has said himself that he has never been more focused on football and when the team gathered for OTAs Tuesday, it was noticeable around the facility.
Although Allen is well established as one of the top quarterbacks in the NFL, what was expected to be an MVP-caliber season was rocky. An elbow injury hampered his accuracy and turnovers plagued him throughout the season.
Allen, Bills coach Sean McDermott and general manager Brandon Beane have mentioned becoming a better decision-maker when it comes to taking hits since the end of the season. Allen's improvement throughout his first five years have shown his willingness to learn, but it's seemingly different now.
"Pat (Mahomes has) got two Super Bowls. Josh Allen, he wants the same shit and I see it in his eyes," Bills defensive end Von Miller said. "He knows he can do it. And every time he comes out here that is the No. 1 thing to go out here and compete and win a Super Bowl."
McDermott pointed to Allen's increased communication during the offseason with the coaching staff, particularly offensive coordinator Ken Dorsey. Allen also confirmed rumors that he informed Beane of his desire to add first-round pick Dalton Kincaid to the roster, although admitting most of his knowledge of the Utah rookie came through mostly highlights and some game tape.
While Allen is communicating with Dorsey in film study and continuing to scour the playbook, Allen is also conversing with his receivers more and trying to find the best ways to get them the ball.
"Josh taking his game to another level really means being a great decision maker," McDermott said. "... It's been talked about adjusting his style of play enough to keep himself healthy and to play smarter at times, as well. And then I just think overall approach to the game. I've seen a different Josh this offseason. Not that it was bad before, but he's got a new sense of focus, I would say, and determination, which is good."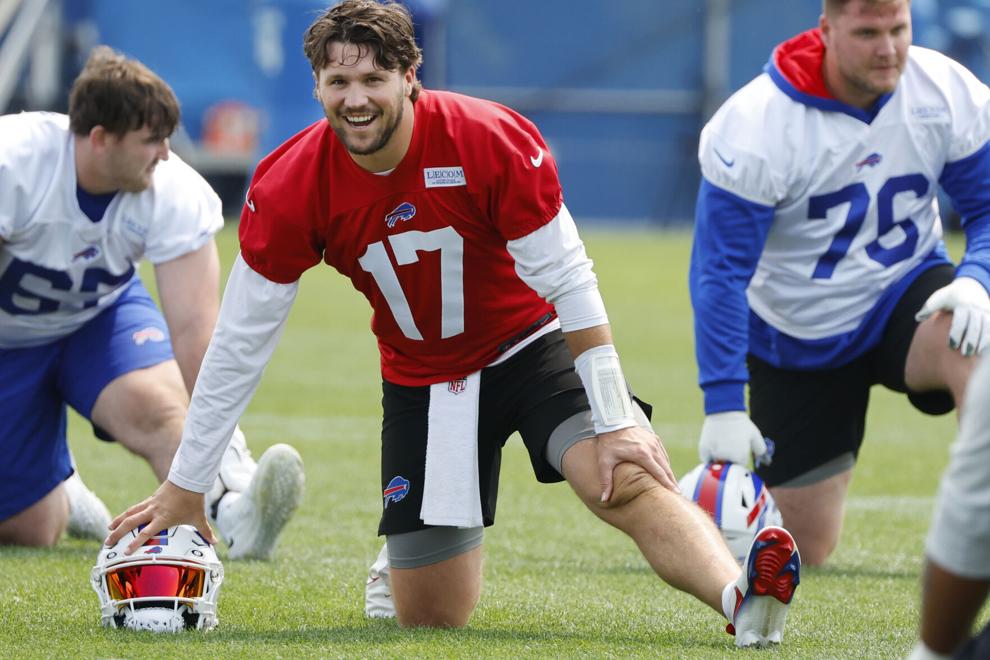 Whether it was adjusting to a new offensive coordinator after the departure of Brian Daboll or issues finding a third receiver for the first time since Allen's rookie season, the offense was disjointed at times and was through portions of 2021, as well.
Over the last two seasons, Allen ranked second in touchdown passes and sixth in yards passing, but also led the league with 29 interceptions. There were stretches where Allen became a complimentary player to the running game and the Bills still won.
Even in the playoffs, where Allen has elevated his game to superstardom, there were struggles. After throwing 14 touchdowns and one interception in his first six postseason games, Allen threw three touchdowns and three interceptions in two games last season.
Perhaps it was last year's promising season ending with a thud — going without a touchdown in a playoff game for the first time since the 2019 wild-card game at Houston — or gaining more wisdom with age, but Allen has been retrospective in his offseason media sessions.
Allen mentioned getting older when voluntary workouts began prior to the draft and he mentioned Buffalo's "window" again Tuesday.
"There's always new ways that I can find to get better, and not being complacent with what I'm doing on the field, understanding that there's a lot of plays that we left out there," Allen said. "Statistically, you look at it, we were a top three, four offense in the league last year, and it wasn't good enough. So, just losing the playoffs isn't fun. And I so badly want to bring a Super Bowl here to Buffalo, and I just don't want anything to get in the way of allowing me to be the best quarterback that I can be for this team."