LEWISTON — In the game of basketball, success starts on the defensive end.
While this phrase is a sports cliche, Niagara Purple Eagles women's basketball has embraced this mindset in recent seasons under head coach Jada Pierce and her coaching staff. And, since mid-December, the Purple Eagles are seeing their hard work pay off as one of the best defensive teams in NCAA Division I women's basketball.
Entering Thursday, the Purple Eagles averaged a Division I best 15.5 steals and 30.06 forced turnovers per game, besting schools like Grand Canyon, East Carolina and Houston in those categories. The success continued in their latest home contest at the Gallagher Center.
Now their seventh win in nine games, Niagara (8-9, 7-2 MAAC) defeated Manhattan, 74-69, to remain in second place, behind only Iona, in the conference standings. Trailing 41-25 with 6:39 left in the third quarter, the Purple Eagles erupted down the stretch, outscoring the Jaspers, 33-9 in the fourth quarter alone. Niagara scored 26 of its points off Manhattan turnovers in the victory.
With a few weeks left in the regular season, Pierce said the Purple Eagles are "hitting their groove" at the right time of the season.
"We're hitting our stride pretty well because we've got the chemistry we've been looking for all along," Pierce said about Niagara, who are coming off a 15-win season that ended in the program's first MAAC semifinals appearance since 2013. "... I think, now that we're pretty much as close to healthy as we can be, the team has really kind of hit their stride and really doing the things that we're asking them to do. And, it's really nice to see because they're having fun."
Niagara had a challenging start to its season with a 1-8 record, including a 78-68 overtime loss at Colgate and a 76-38 loss at Northwestern in late November and defeats against fellow "Big 4" schools, Saint Bonaventure and Buffalo. This tough non-conference schedule in the first month of the season, however, was created by Niagara's coaching staff with another postseason run in mind.
"I think having those struggles in the beginning kind of prepared us, kind of helped us learn and get into that (tight) group a little bit quicker," said senior guard Angel Parker, who recorded a double-double (27 points, 10 rebounds) Thursday against the Jaspers. "And, I feel like now, we're in a space where we can face adversity head on and we'll be prepared for that."
The turning point of Niagara's season came in a 74-67 home win against Rider on Dec. 19. Not only was this the team's last contest before the holiday break, Niagara was coming off a 63-55 loss to Marist to kick off MAAC play two nights prior. Against the Broncs, the Purple Eagles watched a 60-49 lead disappear into a 63-62 deficit with 3:30 left in regulation. Niagara, though, wasn't fazed, scoring on the next possession and capping the victory on a 12-4 run. Pierce was impressed with how the team responded in that one-possession game.
"They didn't waver, they kept going at it and it was nip and tuck down the stretch and then we made some plays," said Pierce. "So, I think those (non) conference games just starting out really helped us kind of figure out that, 'Hey, we are a good team. We have a chance to be great.' And, we're going to continue to do things one play at a time and not get ahead of ourselves."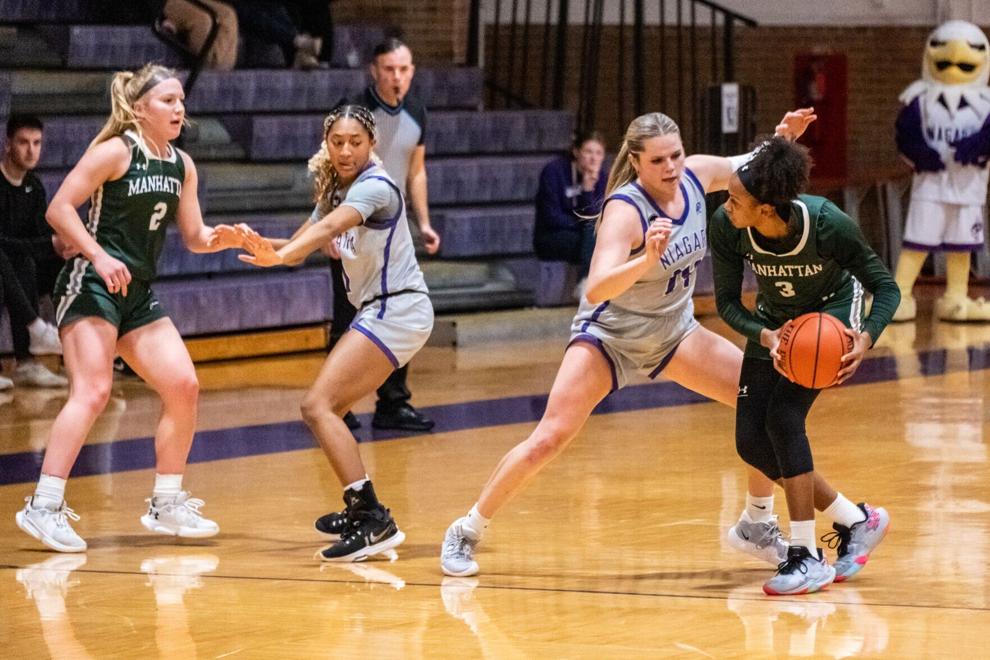 Pierce's defensive emphasis toward the game was inspired by the head coaches she once served — Cindy Griffin at St. Joseph's University, Brian Giorgis at Marist and former U.S. Military Academy at West Point coach Dave Magarity. Establishing a defensive mindset has worked thus far at Niagara, Pierce said, as the players have embraced this as one of the team goals. Referring to this area of the game as "what we hang our head on" in the program's culture, Pierce said the players are motivated to succeed in this area, no matter what it takes.
"I don't want to say the harder, the better, but, I think for them, they know what hard is and they know what the work is and they're not afraid of it," Pierce said. "And, every day they're challenged, they want to be challenged. They don't want it to be easy because they know for us to get to the top of the mountain, it's going to be hard along the way."
Most of the team's game plan in practice is spent working on the defensive end, which has then opened more opportunities offensively. Including Thursday, Niagara has scored 430 of its 1,058 points (40.6%) off of turnovers and are averaging 25.3 points off turnovers per game.
"That's kind of like (what) our persona is, what our team is," Angel said, who earlier this month, became the 25th player in program history to score 1,000 career points in Niagara's 67-55 road win at Rider to complete the season series. "... Our defense turns into our offense and we just kind of thrive off of it."
Like in life, strong communication has been the main ingredient for Niagara's success this season.
"Basically, everyone has to communicate and have trust in their teammates," sophomore guard Aaliyah Parker said, who entered Thursday tied as the conference leader in points (16.9) and steals (4.3) per game. "We have to have that relationship with each other to be able to (play in) this defense."
Even with their current success defensively, Pierce believes the best is yet to come for the Purple Eagles as they haven't reached their "full potential yet," something the team already knows.
"It's going to be a beautiful thing when you get to see the hurricane (wreck) havoc for 40 minutes and not for part of the game and when you can see a Category Five at its finest for 40 minutes," Pierce said.
Niagara continues its season when they renew the "Battle of the Bridge" with long-time rival Canisius Wednesday in a 6 p.m. tip-off at the Gallagher Center.
---
Joe Kraus can be reached via email at joseph.kraus@niagara-gazette.com or on Twitter @ByJoeKraus.