Hours prior to the arrival of teammates and fans, O.J. Simpson gazed around the cavernous Silverdome, unknowing that he would be part of one of the most unique games in NFL history.
This was a time long before Simpson was at the center of one of the most infamous murder trials in America and later spent nine years in prison on armed robbery and kidnapping charges that have banished him from society's eye.
Simpson ran around, past and through defenses and Detroit was his playground on Thanksgiving 1976. He ran for a then-NFL record 273 yards and two touchdowns, but Bills quarterback Gary Marangi's performance was inversely memorable, going 4 of 21 for 29 yards and two interceptions in a 27-14 loss to the Lions.
It was one of Marangi's last moments in the spotlight, as chronic shoulder injuries led to the worst single-season completion percentage (35.3%) in NFL history and pushed him out of football by season's end. Frustrated by the trajectory of his career, he stayed away from football for nearly 25 years.
By the time teaching led Marangi back to football 25 years later, Simpson's star had burnt out. Thanksgiving 1976 was one of Simpson's last true flashes of football greatness, but it was another loss during a dismal season and achieved a record he already owned.
"If you don't have a record, maybe it becomes a number," Simpson told GNN Sports via phone interview from his home in Las Vegas this week. "... I had the record, so I'm not thinking about the record. … I was hoping that we could hold them to win the game. It probably would have been different if I didn't have the record. Breaking your own record is like kissing your sister."
When asked about the 1976 season, Hall of Fame guard Joe DeLamielleure, Marangi and Simpson all echoed the same thought: "We were bad." Coach Lou Saban resigned for the second time as Bills coach, this time five games into the season after a dispute with owner Ralph C. Wilson.
In the offseason, Buffalo gutted the No. 1 offense in the NFL by dealing standout receivers J.D. Hill and Ahmad Rashad, who was a close friend of Simpson's. In protest, Simpson threatened to retire. He was already contemplating a career in broadcasting and even pondered a trade to the Los Angeles Rams, but Wilson didn't budge and lured him back.
Starting quarterback Joe Ferguson led the Bills to a 2-5 record, throwing nine touchdowns to one interception before a season-ending injury plopped Marangi into the lineup. He threw seven touchdown passes and 16 interceptions in seven games as interim coach Jim Ringo went 0-9.
"You realize when you get to that level that it's a business," Marangi said. "... If you weren't producing and people didn't think you were good enough, nobody was doing any favors for you."
Playing on Thanksgiving was nothing new to the Bills, having beaten the St. Louis Cardinals 32-14 the previous season, despite a snow storm delaying arrival until two hours before the game.
But Thanksgiving football was perhaps a bigger deal than the modern era because it was one of the few times teams were guaranteed a spot on national television. Plus playing in Detroit made the game a touch more meaningful for Electric Company members DeLamielleure, Reggie McKenzie and Paul Seymour, who were all from the Detroit area.
DeLamielleure grew up a diehard Lions fan, and now 71, still roots for the Lions unless they play the Bills. His father, Alphonse, owned a bar, which led to free promotions and tickets. The DeLamielleures went to the Thanksgiving game yearly, and when Joe was 10 years old, he told his father we was going to play in the game one day. His father who never swore around his 10 children said, "If you do, I'll (expletive) be there."
With the game approaching, DeLamielleure secured 100 tickets for friends and family members. But 10 days before the game, Alphonse suffered a heart attack. He wasn't going to make it to the game.
But as the game wore on and the Bills fell behind 20-0 by the third quarter, someone told DeLamielleure his father was at the game. He scoffed, but after the game, there was Alphonse. He had checked himself out of the hospital to keep his promise.
"The doctor told my mother he would have died if he stayed in the hospital if he didn't go to that game," said DeLamielleure, who was inducted into the Pro Football Hall of Fame in 2003. "So they let him go. He took a cab to the Silverdome, talked his way into the stadium and he was there."
•••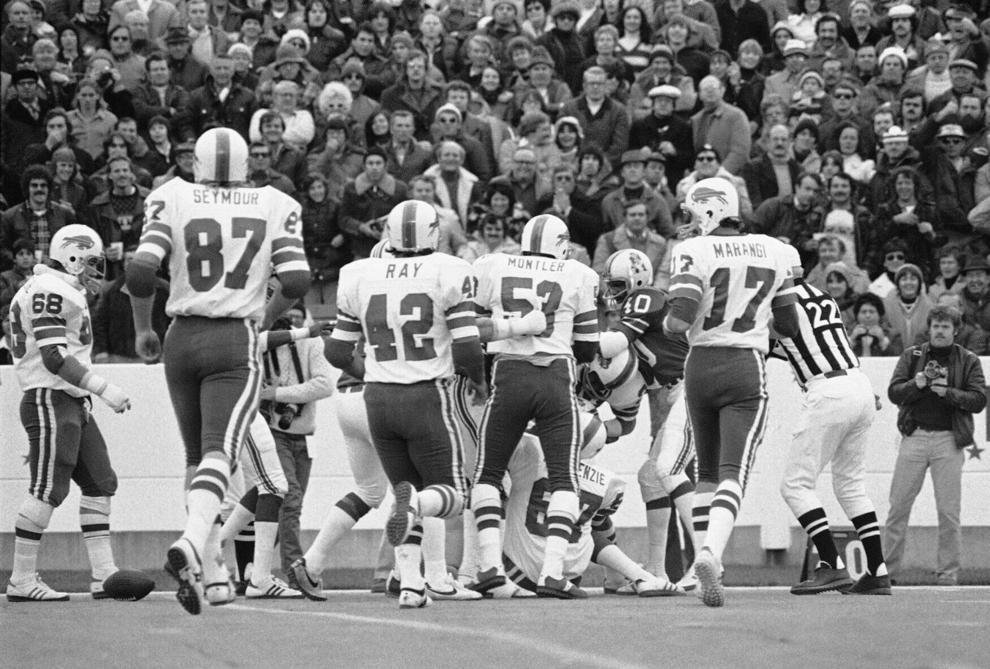 Although Ringo was a player-friendly coach and had a Hall of Fame playing career with the Packers, the Bills were topsy-turvy in 1976. Losing Saban, another coach beloved by players, left the team in a bit of anarchy.
In an era where a full-time offensive coordinator was in its infancy, Marangi occasionally called plays, but was never given a reason for the switch. Marangi did not call plays against the Lions, as Simpson was averaging 9.4 yards per carry and Buffalo still didn't score until he broke a 48-yard run in the third quarter.
George Jakowenko missed two field goals for the Bills in the first quarter and a 70-yard touchdown pass from Marangi to Bob Chandler was called back due to a holding penalty.
"I was horrible; what are you going to say?" Marangi said. "Our passing game was horrible. I feel really bad for Bobby because he was the only good receiver on the team. Our passing game was not very good."
On one of Simpson's first sweeps to the left, he was dropped for a loss and the Detroit defenders began to taunt him. He just laughed to McKenzie on the way back to the huddle, saying, "We'll be back."
"We were running the ball all over the field, but we just couldn't get it in," DeLamielleure said. "... If you didn't run O.J., they were going to bring the house. They kind of had to sit back a little back a little because if he broke the line of scrimmage, he was gone."
Simpson, who originally set the record with 250 yards in the 1973 season opener against the Patriots, says he did not know he was close until the stadium video board flashed a message that he had reached 261 yards.
As Simpson gashed a Detroit defense that surrendered 3.8 yards per carry that season, it became evident to the players that the Bills were purposely feeding him to set a record. However, teammates say he was not demanding carries, even as the offense sputtered.
"He never said give me the ball, I never heard him say that once," DeLamielleure said. "O.J. was one of the best teammates I ever had. What happened after football, I don't know. But that guy was very unselfish. He did everything to promote the offense, the offensive line. I like Gary, we're friends, but he wasn't ready to play at that time."
Simpson was never concerned about his carries, because the Bills focused their offense around him. He averaged 20.7 attempts per game in 1976, including at least 24 in the last five games.
Since he already owned the NFL rushing record, setting it again wasn't a great thrill. After the game he commented, "The purpose of coming in was to win, not set a record."
More than anything, Simpson felt he proved a point against the Lions after a perceived slight during an interview before the team arrived at the stadium with legendary announcer Curt Gowdy, who spent most of the time asking about up-and-coming running backs, including Walter Payton.
"I was getting a little pissed off, acting like I'm gone," Simpson said. "When the team came in, I pulled Seymour, Reggie and DeLamielleure and said, 'You should hear these guys. They act like we're through.' We were on a mission when we went out there offensively."
And although it was the best statistical game — now third-best all-time — of his career, Simpson did not rank it among his best games because Buffalo lost. Instead he favored his 250 yards in a 31-13 win over the Patriots, and his proudest performance was rushing for 227 yards in a 1975 win over the Pittsburgh Steelers' Steel Curtain defense that won the Super Bowl the same season.
"I always thought that was my best game in Buffalo; that's the one I take the most pride in," Simpson said. "Obviously starting the (1973) season with 250 in New England — it wasn't like they were a great team, but since Buffalo had done nothing the four previous years — was kind of a treat to get into the NFL record book. I had not made a mark leading up to that time. The year before, I did lead the league in rushing but we were a losing team."
After starting the season with one 100-yard game in the first six, Simpson's 273-yard outing was a springboard. He ran for 203 yards against Miami the following week and 171 in the season finale to finish with an NFL-best 1,503 yards. It was his fourth rushing title in five years, but he never topped 600 the remainder of his career.
Marangi, meanwhile, was traded to Green Bay after the season, failed his physical and never played another game. He was upset and bitter about how his career crumbled.
Buffalo thought so highly of Marangi that it took him with a third-round pick in 1974, one year after taking Ferguson — who retired as the Bills' statistical leader in most passing categories — but his shoulder couldn't hold up.
While Simpson's life plummeted 28 years after the Thanksgiving game in Detroit, Marangi's took a positive turn. At 48 years old he earned his degree in education after spending years training racehorses and working with kids led him to coaching. Now 70, Marangi is still the head coach at Patchogue-Medford High School on Long Island.
"I love being around the kids," Marangi said. "I realized I had something to offer the kids. I started to volunteer with my cousins. … I got that competitive juices that I was missing from playing. Coaching gave me those juices back again."